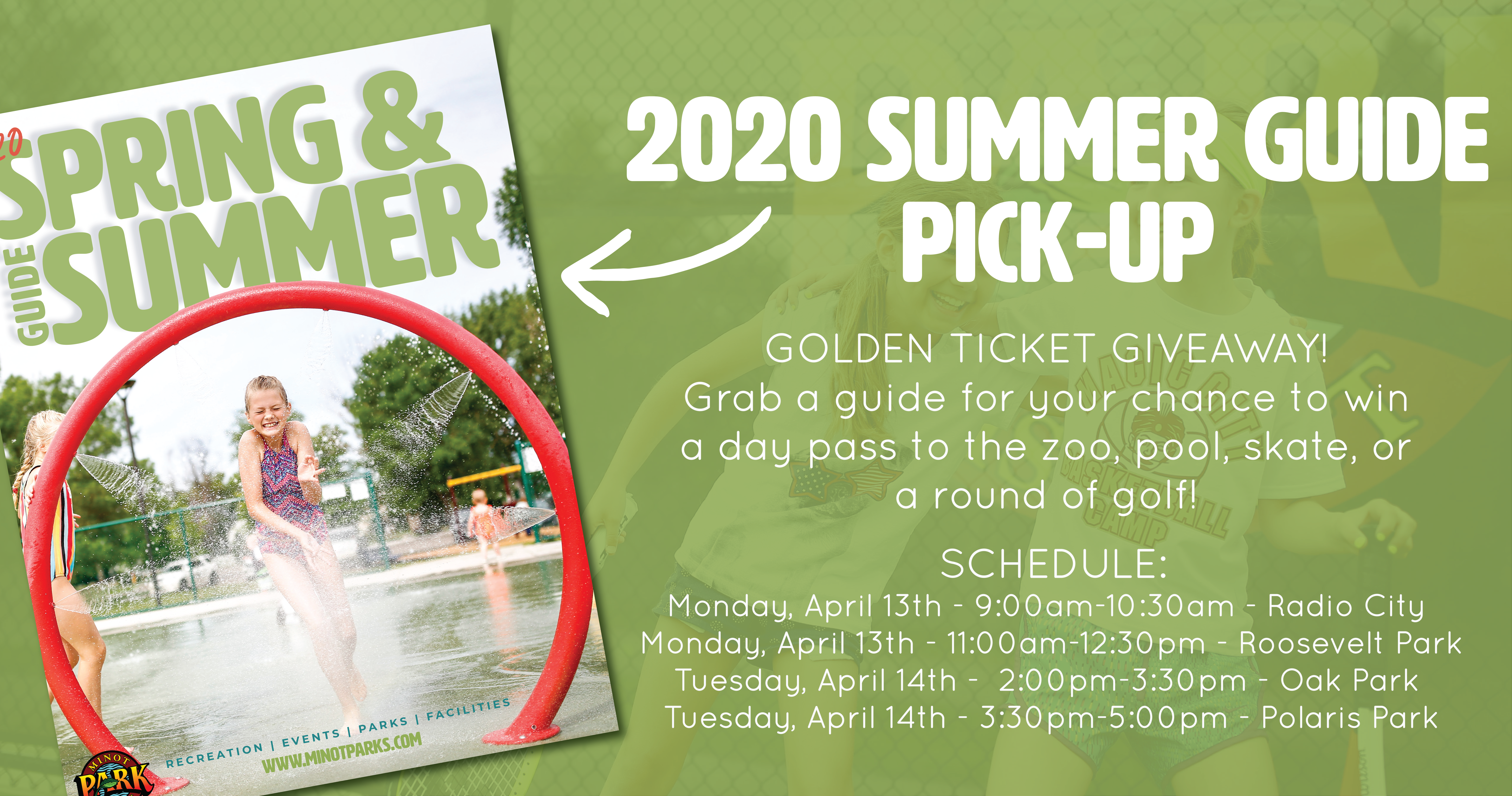 09 Apr

2020 Summer Guides Golden Ticket Event

April 9th, 2020

For Immediate Release

Minot Parks 2020 Summer Guides Golden Ticket Event

Minot, ND- The Minot Park District is gearing up for summer activities by releasing its 2020 Summer Guide. The guides contain information on summer events, youth programming, and adult leagues for the upcoming season. 

Minot Parks will be handing out guides at Radio City Park, Roosevelt Park, Oak Park, and Polaris Park next week. Guests will be directed to a drive-up location where Minot Parks staff will hand out guides to cars. Staff will be wearing the CDC recommended personal protection equipment to ensure the safety of the users and Minot Parks employees.  

The Minot Park District is making the release of the summer guides even more exciting by adding a special golden ticket in select guides!! When guests visit one of the listed locations below, they will have a chance to win day passes to the zoo, day passes to the pool, an auditorium party rental, skate passes, or a round of golf at the Souris Valley Golf Course.   Please note only select guides will have the golden tickets and they will be given out at random. 

Disbursement Schedule

Monday, April 13-9:00am-10:30am- Radio City

Monday, April 13-11:00am-12:30pm-Roosevelt Park

Tuesday, April 14-2:00pm-3:30pm-Oak Park

Tuesday, April 14-3:30pm-5:00pm-Polaris Park


The summer guides will also be available at Marketplace Foods and digitally on our website at minotparks.com.